College Football Countdown: 100 Days
Southbound and Down College Football Countdown
On Tuesday, some people were celebrating that we had 100 days till the college football season started.
But that was counting to the Thursday night kickoff. No disrespect to the team's in action that night, but college football is played on Saturdays. And since we are officially 100 days till the first Saturday of the college football season, this is the true College Football Countdown.
For the next 100 days, we will be counting down the days till the college football season, while also explaining how each number is significant.
And today we will explain why the number 100 is important to this upcoming college football season.
100
100-yard interception return for Alabama's Minkah Fitzpatrick against Arkansas in 2016.
Arkansas has played Alabama tough in recent years. Well, tougher than anyone else at least. The Crimson Tide won 27-14 in 2015, and narrowly escaped with a 14-13 win in 2014.
The 2016 game was in Fayetteville, Ark. And with just over 10 minutes remaining in the 2016 game, Austin Allen had the Razorbacks driving to stay in the game.
After having 1st and 10 at the Alabama 12-yard line, the Razorbacks were looking at 2nd and 18 from the 20. Allen was trying to find Jared Cornelius, who was having an amazing game for the Razorbacks, but instead he found Minkah Fitzpatrick, who was having an even better game for the Crimson Tide.
Fitzpatrick picked it off in the end zone, brought it out and took it 100 yards for a touchdown, putting the Tide up 49-24. It was technically 105 yards, but in the SEC record books, it will be recognized as a 100-yard return.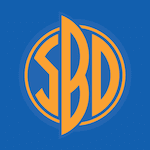 Want your voice heard? Join the South Bound & Down team!
Write for us!
The interception was Fitzpatrick's third of the game, and the Alabama defense's fifth forced turnover of the game. Alabama ended up winning the game 49-30. Fitzpatrick led the SEC with 6 interceptions in 2016.