SEC basketball: Big 12 challenge met
SEC basketball stuck another finger in the eye of the college basketball establishment this past weekend. The grown man football conference won six out of ten games against college basketball's darlings, the Big 12.
Last March, SEC basketball crashed the NCAA Tournament, sending three teams to the Elite Eight. Saturday, SEC basketball out slugged the consensus best basketball conference in America , claiming the Big 12/ SEC Challenge 6 – 4.
The Grown Man basketball conference did it with one arm tied behind its back as streaking Auburn sat out this season's event. The Tigers took on the LSU Bengal Tigers instead, which is playing pretty well itself.
Road wins and home losses
A look inside the won – loss numbers reveals more about SEC basketball than the Danny Kannell wants to know.
SEC basketball sent five teams on the road against the Big 12. Kentucky and Tennessee claimed road wins and only South Carolina lost at home. In Tuscaloosa, Alabama's super freshman guard Collin Sexton squared off against Oklahoma's headline maker, freshman Trae Young. Alabama sent Young and the Sooners home losers.
Cats and Vols meet in the middle
Kentucky and Tennessee began the season on opposite sides of the pre-season predictions. They both entered and exited the Big 12 Challenge 5 – 3 in SEC play.
After, the media predicted Kentucky to win the SEC basketball title, the Wildcats missed free throws and turned the ball over on the way to their 5 – 3 conference record, including a home loss to Florida and a road loss to South Carolina. With the Cats in the middle of the SEC pack, analysis of the The Big Blue bug reached a peak after last week's pedestrian Kentucky win over Mississippi State. The road win in Morgantown against Bob Huggins Mountaineers will likely kick-start the annual mid-season Wildcat surge.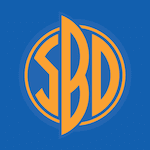 Want your voice heard? Join the South Bound & Down team!
Write for us!
The media also picked Tennessee to finish 13 in the 14-team conference. The Volunteers, ranked number 20 nationally, have had none of that, surging to their 5 – 3 SEC record. The road win against Iowa State lifted the Volunteers to a predicted four seed in the NCAA Tournament.
It wasn't all candy and roses for the SEC. South Carolina's home loss to Texas Tech and Georgia's road loss to Kansas State leaves both teams in Joe Lunardi's "next four out." But at the end of weekend, no one was laughing when the SEC claimed it is one of the top four college basketball conferences in the country.