Georgia football finds final offensive piece
No one knows what the Georgia football offense will look like in 2018, but we know it now has all the pieces.
Georgia football fans are frantically checking the boxes on offense for 2018.
Quarterback, check. Tight end, check.
Tackle, guard, center, tailback, all check.
One box remained unchecked before Georgia football opened summer camp. Wide receiver.
With Demetris Robertson now eligible to play in 2018, check that box, Dawg people.
Filling the last hole
For 2018, Georgia returns proven wide receivers Terry Godwin, Riley Ridley and Mecole Hardman. Talented freshman Tommy Bush and Kearis Jackson join the competition at wide receiver.
But buried in these good-looking numbers are deficiencies – a proven, explosive game changing talent and proven depth. Robertson takes care of both.
In fact, Robertson could be the most talented receiver on campus.
Not so fast
Kirby Smart immediately shouted down the talk of Robertson defining the Georgia offense.
"He's probably not in the shape that our guys are because our guys go through this summer running and lifting. He didn't do that. I know he worked out on his own, but it's never the same."
Despite only working out on his own, Robertson's toughness impressed Smart immediately. "The one thing about him that I was unaware of is that he plays with really good toughness."
High praise from the chopping wood guru.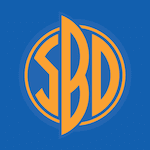 Want your voice heard? Join the South Bound & Down team!
Write for us!
Majority opinion
Kirby Smart isn't paid to be optimistic, and the majority of pundits take exception.
"It makes Georgia one of the scariest teams in the country," Cubelic told DawgNation and Mike Griffin.
While Robertson is shy on conditioning and finds the offensive schemes new, he comes to Athens a man far removed from the boy who left Savannah for Berkeley two years ago. He worked for two years in a major college weight program, conditioned in a major college training program, and competed in major college football games.
And he worked hard. Said Smart of Robertson, "I'm really pleased with his work ethic."
He plays with really good toughness.
Full cupboard
The secret sauce of Robertson's impact on the Georgia football team is that Robertson won't entertain opposing defenses as a one-man band. Robertson not only competes for playing time with a proven cadre of starters and talented freshman, he faces inspired past role players Jayson Stanley and Tyler Simmons. Both are displaying determination to leverage their special teams roles of 2018 into offensive roles in 2018.
Main thing
The main thing about Robertson is simpler than toughness and conditioning and competition. He catches the ball. As a fuzzy cheeked freshman in 2016, he caught 50 passes for 767 yards and seven touchdowns.
Robertson played little in 2017 after being injured. He's well now, and the Georgia offense looks to be in good health.