Georgia basketball: no Matta, no matter
On Saturday, Georgia fired basketball head coach Mark Fox. Four days later, Thad Matta refused the Bulldog's head basketball coaching job.
Georgia basketball had one head coaching target after Mark Fox was fired Saturday, Thad Matta.
The Dawgs didn't get him.
It was, like, Kirby Smart rewind, except it's basketball, and that's the way it goes with Georgia basketball.
Whether or not hiring Matta would have been a Smart-like homerun we will never know. The ball certainly jumped off the bat before curving foul.
The only serious contender
Until his refusal, Matta was the one and only serious candidate for the job. The reason may be the earliest professional influences on Georgia Athletic Director Greg McGarity.
Look to the Georgia basketball past
Since Georgia fired Hugh Durham in 1995, it has hired high-profile veteran Final Four coach Jim Harrick, promoted an assistant, and hired three top mid-major coaches. Only during Jim Harrick's ill-fated tenure did the Georgia basketball program show any promise of matching the level of success produced at Georgia by Hugh Durham.
Durham was himself a veteran Final Four coach with a winning rate of 70 percent at FSU, a school with a previous all-time winning rate before Durham of 50 percent.
In pursuing Matta, Georgia returned to the formula employed by Greg McGarity's old boss in1978, the man that hired Hugh Durham, the late Georgia athletic director Joel Eaves. Expect McGarity to stick with that formula as the search continues.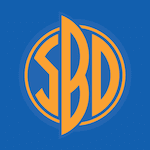 Want your voice heard? Join the South Bound & Down team!
Write for us!
The boss man has to care
While the Georgia Nation anxiously waits for news of a head basketball coach, it's not that big a deal. The big deal is whether the new coach, whoever he is, can command the support needed to make Georgia basketball a winner.
Durham was the last Georgia coach that commanded that support. And that's what this frustrating thing called Georgia basketball has always been about – support from the highest, most hallowed tier of the University.
After Joel Eaves passed the athletic director baton to Vince Dooley in 1979 and Dooley's own 1986 Jan Kemp fiasco fatally wounded Durham's basketball program, Georgia presidents and athletic directors never worried about what those guys did inside the Stegman Coliseum in the winter. The result was a Georgia basketball dark age.
Greg McGarity watched Joel Eaves go to the mat to hire a veteran, highly successfully basketball coach. It worked out well. History is trying to repeat itself.
So far.