SEC Baseball Lands 11 Teams in Latest USA Today Top 25 Poll
For a conference predominantly known for their football, the SEC put the baseball world on notice when they landed 11 teams in USA Today's Top 25 poll. SEC Baseball set a record for most teams ranked at the same time from a conference.
Out of the 14 teams in SEC Baseball, the conference is well-rounded in both divisions with the Western division having six teams and the Eastern division having five teams inside the USA Today Top 25.
SEC Baseball Teams Ranked in USA Today's Top-25
No. 1 Vanderbilt (10-2)
No. 6 Florida (10-4)
No. 8 Mississippi State (12-1)
No. 9 LSU (9-3)
No. 10 Arkansas (10-1)
No. 13 Ole Miss (9-3)
No. 15 Georgia (11-2)
No. 18 Auburn (11-2)
No. 21 Tennessee (13-0)
No. 22 Texas A&M (13-2)
No. 24 South Carolina (10-3)
Teams like Georgia, Ole Miss, Texas A&M, and LSU look to break through the first round threshold that they hit last season sending them back home early in the tournament.
Other teams like Vanderbilt, Florida, Arkansas, South Carolina, and Mississippi State all look to make strong pushes like they did 2018.
For Tennessee and Auburn, they will look to punch their ticket for a trip to the tourney in hopes of getting the mix like some of their other conference foes have been able to do in recent years.
In the 2018 season, the conference had three teams make the Super Regionals in the NCAA baseball tournament. Those teams being Arkansas, Florida, and Mississippi State.
This year the conference is set to increase that number with a very competitive conference all around.
It shouldn't come as a surprise that 11 of the 14 SEC teams made it into the top-25 because the SEC always seems to have a lot of players go into the majors.
SEC teams have always had well-respected reputations of producing prominent MLB prospects.
Players like Max Scherzer, David Price, and Dansby Swanson are just the tip of the iceberg of SEC baseball players to make it to the league and not only that but make a significant impact for their ball clubs.
With players like SS Will Holland from Auburn, LHP Zack Thompson from Kentucky, and RHP Tyler Dyson from Florida are all projected to go within the first twenty picks in the 2019 MLB draft. The conference as a whole has an abundance of talent.
Those three names just being a few of the many players in the SEC who are projected to go early in the draft.
With conference play starting up within the next week for some teams it will be exciting to see how long these rankings survive. Although some teams may have top draft prospects, it will all come down to who is hot when it matters and which teams can make the plays necessary to stay at the top.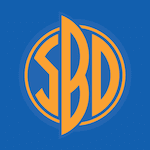 Want your voice heard? Join the South Bound & Down team!
Write for us!
Both divisions have a good number of teams that are playing at a high level and should make for an exciting 2019 season. Will the SEC stay strong when the month of June rolls along? Who will be SEC Champs? With how these look at the moment the trophy is up for grabs.