Georgia basketball: Do Bulldogs have another miracle SEC Tournament run in them?
The Georgia basketball program has struggled mightily in Tom Crean's first season at the helm, but could these Dawgs pull off a miracle run in the SEC Tournament similar to 2008?
Georgia basketball fans are probably in a state of utter disbelief after a disastrous season that saw the Dawgs finish next to last in the SEC, not even looking competitive for most of the season. Georgia's 2-16 conference record and 11-20 overall record was not how most saw first-year head coach Tom Crean's inaugural season in Athens ending.
Now the SEC Tournament has arrived and Georgia can right all wrongs and set the minds of the boosters who backed Crean at ease with some inspired play when it counts the most. However, the Dawgs only won a single game in their final 12 outings this season, so that could be a tall order.
But it was also a tall order in 2008, when Dennis Felton took his underachieving Bulldogs to downtown Atlanta, sporting a 4-12 conference mark and a 13-16 overall record, with little hope that the Dawgs would do much damage.
As it turns out, damage was done – both by the Bulldogs and by a tornado that ripped through downtown Atlanta during the second round. The Bulldogs ripped through the SEC competition and came out tournament champions, sending them on to the Big Dance.
Certainly, nobody will wish a twister to touch down in downtown Nashville this year, but Georgia fans can hope that Crean's struggling squad finds some magic to end the season much like that 2008 team.
Georgia's path to glory at Bridgestone Arena this year? Beat Missouri, Auburn, and South Carolina, and the Bulldogs would find themselves in the unfamiliar spot of the tourney semifinals. The thing is, those are all winnable games for the Georgia cagers, so the idea of a miracle run in this year's tourney isn't as far-fetched as you might think.
Against Mizzou this season, Georgia was demolished in the penultimate regular season game and that embarrassing 64-39 loss is still fresh in the minds of Georgia players. Nothing better than some early round revenge.
Versus Auburn, the Bulldogs were manhandled by the Tigers on the road, but came oh-so-close to an upset at home against their rivals, dropping a 78-75 heartbreaker.
The Gamecocks swept Georgia as well this season, including the final regular season game where the Chris Silva practically outscored the entire Bulldog team. Another opportunity for a Dawgs revenge tour stop.
Let's be honest. Real talk here. The chances of Georgia winning those three games are slim – so slim they are barely even discernable from vapor – but I'm telling you, there's a chance [insert Jim Carrey GIF]. Should that trio of wins occur, Georgia would have to then defeat a likely two-punch combination out of Kentucky, LSU, and Tennessee – which is even more implausible.
The actual odds for Georgia winning the 2019 SEC Tournament? As Vince McMahon is so fond of saying; No chance, no chance in hell.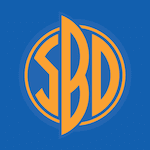 Want your voice heard? Join the South Bound & Down team!
Write for us!
But, no one gave the Dawgs a chance in 2008, and it happened. Georgia fans can only hope to find another bottle with some lightning inside in 2019.