Auburn Demolishes Kansas in Route of Sweet 16
Auburn Basketball continues to gain momentum as the Tigers demolished Kansas in the second round of the 2019 NCAA Tournament. The Tigers continue to beat better teams and proving they're a tournament team.
Auburn Basketball improved to 28-9 on the season after taking down No. 4 seed Kansas 89-75.
Once again, the Tigers three-point game leads them to a victory.
Auburn made 13-of-30 three-pointers including seven from Bryce Brown. The Tigers shot 43.3 percent from beyond the arc while Kansas shot 31.6 percent and made 6-of-19 three-pointers.
Brown was one of four Tigers to score in double-digit points. He scored 25 points, two assists and shot 9-of-13 from the floor making 7-of-11 from the arc.
Jared Harper added 18 points for the Tigers and had six assists on the game.He shot 6-of-13 from the floor as well, making 46.1 percent of his shots.
Chuma Okeke contributed 12 points, five rebounds, and four assists. Anfernee McLemore added 11 points and five boards as well.
The Tigers got out-rebounded 38 to 27, but when a team is that hot from the arc, losing the board game doesn't sting as bad.
Auburn kept up the tempo throughout the entire game and had 32 fast break points along with 32 points in the paint.
The Tigers also added 22 points off the 16 turnovers they forced.
Kansas had four double-digit scorers as well, but the lack of long shooting hurt the Jayhawks the most. Dedric Lawson led the way with 25 points, ten rebounds, and three assists. Quentin Grimes scored 15 points, Devon Dotson put up 13 points, and David McCormack contributed 11 points.
The Jayhawks made only eight shots in the first half while Auburn made 20. Once the Tigers got Kansas uncomfortable, Auburn played its game. The Tigers played their ball game and once again outworked a better team.
Kansas scored most of its points in the paint as the Jayhawks scored 40 down low. However, they couldn't capitalize off turnovers scoring 11 points and ten fast break points. The Tigers did a great job on both the offense and defense and stunned Kansas.
Despite holding a 27 point lead with 12:28 to go, the Tigers slowly let the Jayhawks come back, but the point deficit was too much, and Auburn held on to win.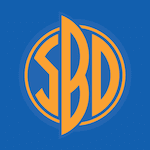 Want your voice heard? Join the South Bound & Down team!
Write for us!
Up next for Auburn will either be No. 1 seeded North Carolina or No. 9 seed Washington. Those two teams face off March 24 at 2:40 ET on CBS. The Tigers next game will be March 29, game time and TV network will be announced once the matchup is set.