Florida Basketball Booted from 2019 NCAA Tournament
Florida Basketball was the next SEC team to fall in the 2019 NCAA Tournament. The Gators fell to Michigan and end their 2018-2019 campaign.
The Florida basketball team couldn't hold on and fell to No. 2 seed Michigan 64-49. After hanging in there with the Wolverines in the first half, the Gators didn't have enough to finish out the game and move onto the Sweet 16.
Jalen Hudson led the way for the Gators with 11 points. He shot 4-of-15 from the floor and 3-10 from the arc.
Kevarrius Hayes, KeVaughn Allen, and Noah Locke each contributed eight points. Andrew Nembhard scored the Gators seven points as well.
Keyontae Johnson added five points to the Gators overall score but led the team in rebounds with nine.
One of the bigs things that stick out to me is that the Gators only shot two foul shots the entire game.
Michigan's team was one of the most disciplined that I have seen all season.
Florida shot 34.5 percent from the floor and 34.6 percent from the arc.
As for Michigan, the Wolverines shot 42.1 percent from the floor and 33.3 percent from the arc. They also went 9-of-12 from the foul line.
Michigan dominated Florida in the paint scoring 34 points to the Gators 16 points.
The Wolverines had two double-digit scorers. Jordan Poole scored 19 points while Isaiah Livers scored 10. Zavier Simpson and Charles Matthews contributed nine points each.
Simpson had nine boards and nine assists for Michigan as well. Jon Teske had eight points and ten rebounds along with two assists.
As a whole, Michigan was a more consistent team and got the shots to fall, Florida couldn't capitalize and force many Michigan mistakes.
If Florida could have rebounded more, it would have helped as well. The Gators only brought down 29 boards to Michigan's 42 rebounds.
Michigan has a lot more experience than the Gators, and that showed on Saturday. Once the Gators earn some more experience, they will get over the round of 32 hump.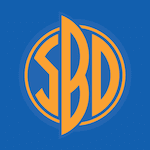 Want your voice heard? Join the South Bound & Down team!
Write for us!
Florida ends its season with a 20-16 record and just shy of the Sweet 16 round. The Gators ended up with a 9-9 record in SEC play, a 9-6 record at home, 5-6 record on the road, and a 6-4 record in neutral site games.