LSU Basketball Heads to the Sweet 16 in 2019 NCAA Tournament
LSU Basketball is one of the SEC teams headed to the Sweet 16 round. The Tigers hung on against Maryland and with a last second field goal avoided overtime.
For the 10th time in school history, LSU basketball heads to the Sweet 16 round of the NCAA Tournament.
The Tigers defeated Maryland 69-67 Saturday afternoon. Tremont Waters avoided overtime for LSU making a shot with 1.9 seconds left on the clock.
LSU had four players score in double-digit points. Skylar Mays led the way for the Tigers scoring 16 points, five boards, one block, and one steal.
All four of his shots made came from beyond the arc.
Naz Reid contributed 13 points, four rebounds, and two assists.
Tremont Waters scored 12 points, five assists, and two turnovers.
He made the critical drive to get the Tigers out of a tough situation and win the game.
Darius Days were the final LSU player to score in double-digit points.
He scored 10 points, five rebounds, and had one assist.
LSU shot 36.9 percent from the floor, but that number is only that high because of a 46.7 percent first half. The Tigers struggled in the second half just making 28.6 percent from the floor and 21.4 percent from the arc.
Maryland had five players shoot in double-digit points, but couldn't get it done from the foul line. The Terps shot 69.6 percent from the line compared to LSU's 87.5 percent.
Those five Terps to score in double-digits were Jalen Smith who led the way with 15 points, eight rebounds, and five blocks. Anthony Cowan and Aaron Wiggins added a respectable 11 points each. Cowan led the team with six assists. Bruno Fernando and Darryl Morsell added 10 points each as well.
One of the only things that saved LSU from ending their big dance was its free throws. If the Tigers didn't make their 14-of-16 from the line, Maryland would have beaten them.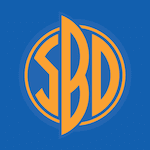 Want your voice heard? Join the South Bound & Down team!
Write for us!
Up next for LSU No. 2 seed Michigan State in Washington, D.C., on Friday, March 29. The game time and tip off are not determined yet.