Auburn Basketball Can and Will Win the 2019 NCAA Tournament
Auburn Basketball has punched its ticket to the Final Four. The Tigers continued to defy the odds and beat opponents that no one gives them a chance to. Say hello to the 2019 NCAA Tournament National Champion.
Auburn basketball continues to find ways to win basketball games. Regardless of losing one of their top players, the Tigers have made it to their first-ever Final Four.
The Tigers took Kentucky to overtime and beat the Wildcats 77-71.
Auburn keeps proving that it is one of the best basketball teams in the country. From their three-point shooting to their defense stepping up when it matters most, the Tigers find ways.
Three of the final four teams have been decided with the Michigan State and Duke game left to determine that last team.
Looking at these other two teams, if Auburn can continue to shoot the way it is, there is no stopping them.
Since February 27, the Tigers had scored at least 12 three-pointers in each game except for two games.
The first game was against Alabama when they made seven. Then against Kentucky in the Elite Eight, Auburn only made seven three-pointers.
The result of those long balls? Well, an 11 game winning streak with two wins away from Auburn's first ever basketball national title.
Auburn may be shooting well, but after the North Carolina game it became more than just winning, it became winning for a teammate.
When Chuma Okeke went down with a knee injury against North Carolina, playing for him became the motivation over making it to the Final Four and likely even winning.
That motivation to win for him is why Auburn won in overtime against Kentucky.
Jared Harper and Bryce Brown keep playing their hearts out for this team and leaving it all on the court.
Losing Okeke is a massive blow with Virginia up next, but if the Kentucky game told us anything its that Auburn has other playmakers that can step up in a big way.
https://twitter.com/marchmadness/status/1112459714846089216
After looking at the teams in the Final Four, I don't know that any of them can keep up with Auburn's pace. The closest is Michigan State or Duke, which only one of them can advance, and then they have to get by a scrappy Texas Tech team.
Virginia is the Tigers next opponent, another No. 1 seed team. The Cavaliers are one of the best teams in the country and respectfully made it to the Final Four, but they haven't faced a team close to Auburn's caliber.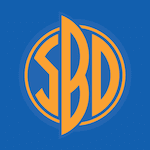 Want your voice heard? Join the South Bound & Down team!
Write for us!
I'm going on the record now and saying that Auburn beats Virginia by 10-plus points. With this much momentum, I don't know that any team can stop them.
The Tigers will be your 2019 NCAA Tournament champions.